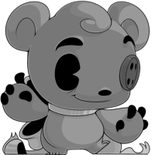 A scarebear is a demonic, stuffed, teddy with a large bow and one button eye. They are known for trying to "take over the world", while others are more friendly than mean.
How to get a Scarebear
Option 1. First, you'll need four items. A button, Battle Needles, a Teddy, and a Scarebear Bow.
You can get these items by buying them in stores, userstores, ect. The most difficult to obtain is the Scarebear Bow, which can sometimes be found in the Graveyard. However, this is very rare.
Option 2. Use a Mystical Scarebear Totem. You can obtain these when you order a real life Scarebear Plushie.
Option 3. Find another user with a scarebear and ask to trade.
The Scarebear is a very rare pet and can be sold for alot of Credits.